Snorkeling, not only doesn't require formal training but it's also a fun activity to share with friends and family. Even if you are not an expert swimmer you can snorkel either wearing a life vest or holding on to a flotation device. Trying snorkeling will get you a first-row seat in a breathtaking underwater world full of colorful life forms. It takes your vacation experience to the next level.
Benefits of Snorkeling
Snorkeling is not only entertaining but also comes with few health benefits, such as
Improves joint mobility, eases joint pain.
Increase vascular health, strengthening the heart muscle.
Enhances breathing by increasing oxygen intake.
Relieves stress and anxiety by practicing mouth breathing techniques.
Full workout, you can burn up to 300 calories per hour
Snorkeling in Puerto Vallarta
Snorkeling in Puerto Vallarta will expand your discovery of this beautiful town. Puerto Vallarta offers a variety of places where you can come in contact with its rich marine world.
With more than 20 locations, found in the area between Los Arcos and Yelapa, you can pick one or more that are interesting for you to explore. Here, snorkelers can visit shallow coves, and come in contact with sea life such as starfish, giant lobsters, needlefish, turtles, eagle rays, and much more.
Some of the most popular locations for snorkeling are Las Caletas, Los Arcos, Quimixto, Las Islas Marietas, Najahuitas, Pizota, and Colomitos. All of them offer a different experience. Let's take a closer look into some of them to see what they offer.
Islas Marietas (Marietas Islands)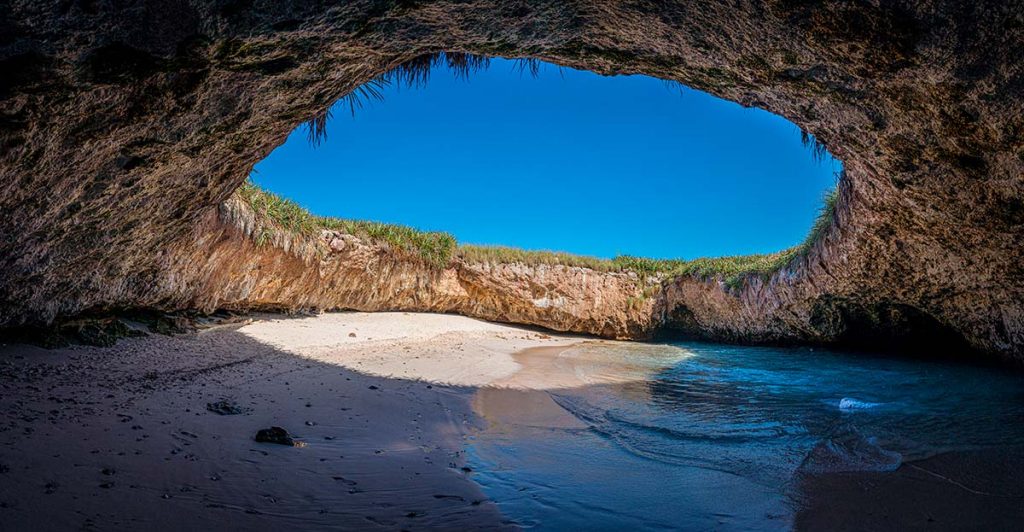 The Marieta Islands are part of the UNESCO's Man and the Biosphere program to improve the relationship between humans and the environment. Oversee by the Mexican government, they make sure that this paradise continues protected from commercialization. Therefore, you will be able to enjoy untouched views of cliffs, beaches, and wildlife.
At Marietas Island, three water currents gather, giving a place for an abundant oceanic life as well as birds. Here you will find manta rays, multicolored fish, dolphins, humpback whales, blue-footed boobies, and sea turtles.
Situated 20 miles south of Puerto Vallarta, you can either take a one-hour boat ride or drive to Punta de Mita and from there take a shorter boat ride.
Parque Marino Los Arcos
Located 12 miles south of Puerto Vallarta in the area called Mismaloya. Los Arcos (that means arches in English) National Marine Park is formed by three rocky islands that have passages, tunnels, and arch formations that shelter a diversity of aquatic life.
This government-protected marine reserve is very popular for snorkeling, diving, swimming, Stand-Up-Paddle (SUP), Yoga SUP, and kayaking.
Formed by five granite islets, the bigger three are called Roca de Los Arcos, Roca de la Tortuga, and Roca del Diablo. The islets are at the deepest part of the Bahia de Banderas Bay, which depth can range anywhere from 30 to 1600 feet. It counts with underwater caves, deep tunnels, impressive reefs, and arches. Its waters are loaded with specimens such as the pufferfish, octopus, eel, moray eel, parrotfish, cornetfish, lobsters, angelfish, rays, clownfish, stingers, anemones, nudibranchs, and sea turtles.
Los Arcos National Marine Park is also the home for a diversity of marine birds which choose this place for reproducing. Here you can find the rare blue-footed boobies, sea hawk, some species of parakeets, cormorants, pelicans, and others.
At only 20 minutes away from the center of Puerto Vallarta, reaching Los Arcos is very easy. You just can jump in a local bus and get off in Mismaloya and from there hired a panga (water taxi) to take you. On the other hand, if you are more experienced at snorkeling, it's also a possibility of hiring a private boat, you would have plenty of options where to choose from.
Pizota
If you are looking for a tranquil spot to snorkel that is not on the touristic radar Pizota is the place you should go. Most visitors make it as far as Yelapa, which is a charming fishermen town with a lot to offer like restaurants, boutique hotels, and an impressive waterfall. However, it can get crowded, and with a heavy boat-traffic does not have the best conditions for snorkeling.
Therefore, taking the short trip after Yelapa's beach to the town of Pizota is worth it. With very few visitors you will find great snorkeling conditions.
To reach there you can ask one of the pangas (water taxi) drivers to drop you, just make sure you set a pickup time, so they can bring you back to Yelapa. Another option is to charter a boat to take you to Pizota.
Before your Snorkeling Trip
Some things to consider before start packing your snorkeling gear.
The best time of year to snorkel with very clear water is during the "shoulder seasons": from April to June and then from October to December. However, its been reports of "cloudy waters" around the Christmas and New Years's holidays.
There are stronger water currents during the winter months that can make it difficult to snorkel or swimming.
During the rainy season, the rivers flow mud into the ocean which makes the water cloudy decreasing visibility.
Check for a guided snorkeling tour in Puerto Vallarta.
Use biodegradable ocean-friendly sunblock to prevent contamination to the marine life.
Also, remember to be safe and have a fantastic time while snorkeling and visiting beautiful Puerto Vallarta.